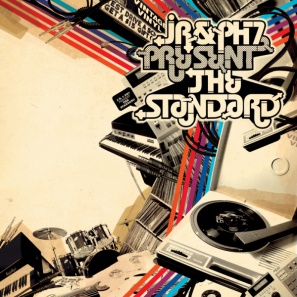 The debut album of two german HipHop producers, who go by the names of JR&PH7, entitled The Standard.
The featurette on The Standard is huge, with numerous well known U.S. underground HipHop artists and guest vocalists such as Rakaa (Dilated Peoples), Planet Asia, Edo.G, Guilty Simpson, Skyzoo, Black Milk, Edgar Allen Floe, Oddisee and many more, just to name a few.
This is not about bling, fancy ringtones and all that, it´s about rappers, who got something to say. Groovy beats and soulful sampling combined with heavy drumming make this album a listening pleasure for the audience and JR&PH7´s mission pretty simple: It´s about where you´re at, not where you´re from.
Real music for real people.
01. Intro
02. Rock For Ya´ll (ft. Superstition & Scienide)
03. Fast Lane Speedin´ (Oddisee)
04. Summer Chill (ft. Edgar Allen Floe)
05. Interlude
06. Take It To The Streets (ft. Planet Asia & Rakaa Iriscience)
07. Top Rank (ft. Guilty Simpson & Black Milk)
08. Let´s Move (Skyzoo)
09. 20/20 (ft. Tableek of Maspyke)
10. Best Flow (ft. Pumpkinhead)
11. HipHop Lives (ft. Edo.G)
12. The World Keeps Turnin´ (ft. Larissah Sirah)
13. Dreams (ft. Kaze & Edgar Allen Floe)
14. I Keep On Movin´ (ft. Kev Brown, Emskee & Sean Boog)
15. I Don´t Know Why (ft. Oddisee)
16. Zone To Da Nightlife (ft. Median)
17. The End is Near (ft. The Good People & Larissah Sirah)
Скачать
отличный альбом! по музыке Cunninglinguists напоминает...